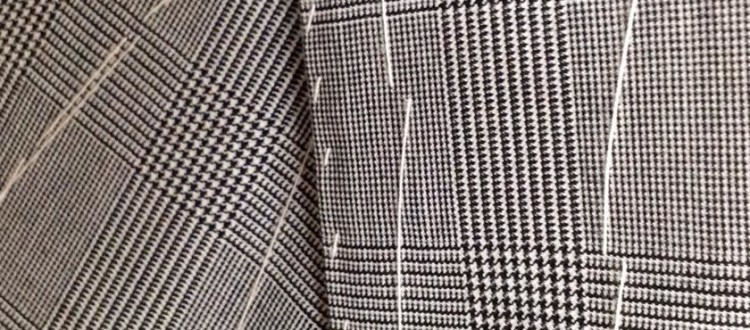 Glen plaid, a timeless charm textile
The fabrics we use in our 'workshop' are precious ones that narrate old stories and traditions. We particularly like English textiles which have a special timeless charm.
Glen plaid is one of them, a fabric that conveys the idea of 'gentleman's style' typical of the environment in which it has spread.
Glen plaid is woven of Saxony wool, a teased or worsted fabric named after the German region. On this textile are created big square windows that contain check or houndstooth patterns.
The latter is usually made of black and white threads as well as of white and brown or grey, however in order to make it more modern nowadays other colours such as red or blue are often added to mark the bigger windows. One of the main features of this fabric is the twill weave. The textile in the same in the front and the back side with a diagonal pattern.
This special and charming fabric is sometimes nicknamed the Prince of Wales check, as it was popularized by the Duke of Windsor when Prince of Wales, Edward VIII of England, whose unique dandy style was expression both of his lifestyle and of his attire.
Edward VIII was a style icon who changed the fashion, a great 'arbiter elegantiae' who created new trends. Edward VIII made glen plaid famous, but it already existed. The first who wore it was Edward VIII's grandfather, Edward VII, who started wearing this textile for his sport clothing in England.
Glen plaid suits cannot miss in a man's wardrobe. They immediately give a gentleman elegance touch, a bit dandy. Lastly, glen plaid can be very personal thanks to the various colour and pattern combination possibilities.