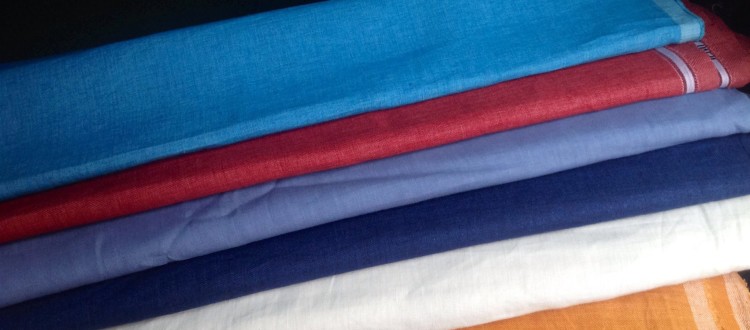 Linen, perfect summer textile
Among the most popular fabrics for the summer, linen has a special place. During the hot season you do not need to give up style and elegance and avoid to wear a bespoke suits. You should instead choose textiles that are appropriate for the summer and can provide comfort and good breathability.
Linen is often used to create sartorial suits, in fact lately natural fabrics are become more and more popular because are comfortable and classy.
Linen, and in particular Irish linen, is a natural and extremely breathable fabric. It absorbs the perspiration of the skin and maintains it fresh. Moreover, it is very strong, hypoallergenic and helps the natural thermoregulation of the body.
Linen is not all the same. To make a good bespoke suit you have to choose a very high quality linen. This is the only way to work this natural fibre and create a comfortable, elegant and personal suit. In fact it are the quality of the fibre and the cut of the suit that really make the difference when it comes to linen suits.
Thanks to the sartorial cut and to the numerous colours of linen we can create a unique garment made to meet the your requirements, a suit with a touch of colour and brightness, a suit perfect for the summer in the city and or for holiday evenings.
Linen grown in Europe is considered one of world's best. This happened for different reasons such as the favourable climate and the knowledge of the expert flax growers concerned about the good quality of the product.
Linen is likely to be the oldest textile fibre in the world. It dates back to 8,000 years BC. Phoenicians bought it in Egypt and exported it in Ireland, England and Brittany. This made the fabric spread all over Europe.
Roman wore it, but used it also for the house. During the Renaissance it was also used to make sheets and shirts. During the European wars of religion thousands of Flemish weaver were forced to escape to England and Ireland, so that they create a long linen production tradition that made the Irish linen one of the best in the world.