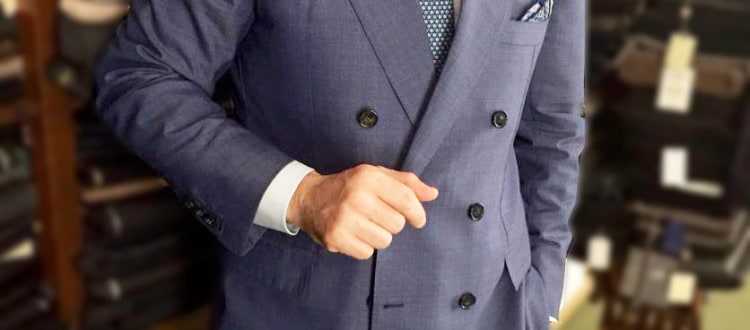 Each occasion has a perfect attire
Details are crucial in bespoke suits. Nothing is left to chance. Shape, colour and fabric are carefully chosen in order to be appropriate for occasion, time and season.
Men's elegance has definitely a long list of unwritten rules about what and how to wear.
At the core of each rule of a dress code there is the awareness of your own personality. In fact, suits tell a lot about people. Before the creation of a suit a good tailor has to discover the main features of the personality of the wearer in order to convey the same idea of style.
So, even if it is true that a man should follow his own style, nevertheless, he should also wear proper suits in some occasions.
Informal occasion of everyday life give you the chance to show your fashion flair while maintaining a general elegance. For instance, those who attend clubs or sports centres are characterized by an informal elegance, tending to comfort. For informal appointments you can wear a blazer and classic trousers.
On the other hand, in formal occasions you had better be rather elegant. Important appointments, meetings, dinners and special occasions require a suit. Usually you prefer darker shades. The main rule you have to follow is finding a suit that makes you feel at ease. The jacket can be single-breasted with two or three buttons and should be worn with a tie.
On the other hand there are occasions that require a special dress code. Such as ceremonies or gala nights. Fabrics have to be valuable and the suit must mold perfectly the shape of the body without limiting the movements.
For weddings the elegant garment par excellence is the morning suit. It is a very formal piece of clothing for solemn ceremonies expressing evergreen exclusiveness and elegance. The typical morning coat tapers on the front and its defining feature is the rounded, cut away skirt reaching down to the calf, it is called morning dress because you should wear it before 6:00 p.m.
For elegant but sober wedding ceremonies you can choose black lounge suit that has no skirts.
A very formal suit is the tuxedo that is still a timeless charming outfit. Tuxedo is supposed to be worn always after 6:00 p.m. and is usually chosen only if required on the invitation. The unique tuxedo jacket can be single- or double-breasted, without vents and with pointed or shawl lapels requires a perfect bespoke construction not to look clumsy the wearer.
One of the most elegant suits is the white tie, perfect for important events such as official ceremonies or exclusive occasions that take place at night. This garment is extremely formal and very strictly regulated. The single-breasted black jacket with the famous 'tails' should never be buttoned up. The trousers' waist is very high and tight, must be hold up by thin braces that must not be seen. Waistcoat is made in white piqué and is worn black only for Vatican events.
For gala nights you can choose also elegant blue or grey single-breasted suits with two or three buttons, peak lapels, without turn-ups at the bottom of the trousers. To adapt the suit for elegant ceremonies plays a key role the making of the garment. Details are a crucial feature of a bespoke suit.
Another way to be elegant and original is a double-breasted suit.
It has always been 'the jewel in the crown' of our tailoring house, double-breasted jackets convey a natural elegance. Its main sartorial features require great craftsmanship during its creation. Only a perfect cut can preserve the beauty of an original and stylish garment like double-breasted suit.
A sober and natural garment that can have a great number of versions that can be more or less formal. Special attention must be paid to the choice of the shape that must fit the personality of the wearer and, above all, the occasion.
Double-breasted blazer, for instance, is a garment that is perfect for less formal occasions. Match it with simple and regular trousers and it is perfect for those who want a less official but still elegant attire.
Whatever is your choice you had better search harmony and balance.